From 15th August 1947 to 15th August 2018 it's been a long journey for India. As a nation, we have accomplished many things and failed abundantly too. Today we commemorate the 72nd anniversary of our nation's Independence and while I can list down a hundred and one things that are wrong in our country, I choose to salute those that are right.
When you fall in love with someone, it's hard to see their flaws. The soldiers and officers of the Indian Armed Forces love their country and despite all the political power shift, the media portrayal and many other atrocities, they remain, united with a heart of gold and nerves of steel. So this Independence Day I wanted to understand what being a Defence officer means, and what keeps them going when the going gets tough. Their responses will not only inspire us to be stronger but also nudge us to do our bit for the country.
Brig Vivek Sharma, VSM (32 yrs of service)
Being an army officer is a matter of great pride for me and it always gives me a sense of achievement to b a part of an elite organization where honor, dignity, comradeship, commitment, dedication, and sacrifice is a way of life. Our organization represents the true essence of our great nation…. we are united in diversity. What keeps me going on in all situations is the sense of pride and the confidence of the men I command. The training in all my academies has taught me that – I CAN. I WILL AND I MUST.
Colonel Piyush Sharma (29 yrs of service)

Being an Army Officer means the world to me. The privilege and pride of having passed out from the Quarter Deck of NDA (National Defence Academy, Pune) and taken the Oath in Chetwode Hall, the honour of having served in one of the finest regiments of our Army with troops who ask for so little and give it their all…what more can one ask for! It's been a journey of a lifetime. The conditioning at NDA and credo of Commando School Belgaum "Tough time's don't last, tough people, do" is what has seen me through some of the darkest days that I have faced.
Lt. Col. Kush Kashyap (14 yrs of service)

Being an army officer inculcates a sense of pride and honor in me because from my childhood I wanted to join the Armed forces. So for me, it's a dream come true. It also instills a sense of responsibility and comradeship towards my subordinates. I ensure me and my men (fellow soldiers) are a happy team and we work as a team! There is a phrase; when the going gets tough, the tough get going and that has kept me motivated in the toughest of the situation along with the responsibility of leading from the front.
Lt. Col Rajput Ravinder Singh (19 yrs of service)

I feel uniquely blessed to be part of the highest institution of valor, sacrifice, and commitment – The Indian Army. Being a part of this makes me extraordinarily proud and fills me with a deep sense of responsibility and gratitude towards my fellow countrymen. There is no service bigger than being the belief of your loved nation. A sense of responsibility, confidence in training standards, a positive intuitive decision making, fearlessness in execution, an honest introspection, forthrightness in expression, virtuousness in conduct and social amenability is what kept me on my tows leaning forward in handling both professional and personal issues as being an officer. Also, encouragement from colleagues and subordinates provided a base for relentlessness despite some mistakes. As an officer, it gives me an immense pride to have faced some of the unique challenges of leading men through demanding circumstances. Hence it's a way of life for me and in my every birth, if I may have after this life, I vow to be part of the same organization every time.
Col CS Handa (40 yrs of service)

Safety, security, and honor of my nation always come first. The honor and welfare of my men that I command comes next. My own comfort, own welfare, and own life will always come last to my ego.
Col Praveen Gangawani (20 yrs of service)

I feel very proud to have served in the Indian Army. The value system and discipline that it inculcates makes one a complete human being, a cut above the rest of the countrymen. That is the reason the country looks up to its defense forces for solutions when everything else fails. The capacity to endure acquired during my training in NDA (National Defence Academy, Pune) kept me going during the toughest of times and situations.
Brig Rakesh Sharma (33 yrs of service)

Being an officer means being a custodian of this country, saving her from aggression by external enemies. Thwarting their nefarious designs and punishing them for misadventure. What has always kept me going is the belief that we the Armed Forces are the last option the country has to safeguard its territory. Today, I am the representative of the Indian Army and I am The Indian Army at this moment. The nation looks up to me. I will not allow a single enemy to go across.
Brig IJ Singh, SC, SM** (30 yrs of service)

Being an Army Officer gives me a high which nothing else can or could have. It's the love and loyalty of the troops we command which keeps us going in toughest of situations.
Maj Ashish Mehta (12 yrs of service)

Being an Army officer is an ethical & professional responsibility that brings me immense pride, self-satisfaction, camaraderie & quality to life among other things. When times have been tough, my team has kept me going. They have been like a family to me, notwithstanding that every few years I move to a new place and have a new team!
Commander MK Singh (23 yrs of service)

Being a Fauji & a Naval officer means I am the most fortunate to have the military uniform as my second skin. 1.2 billion Indian hearts beating for us Fauji's…keeps me going in worst of situations.
Capt Tribhuvan Jaiswal (32 yrs of service)

It means the world, literally everything – pride, the spirit of do or die, teamwork and a great amount of satisfaction, in being part of a group of people who would not fail the nation come what may. The confidence to deal and face the toughest trials keeps me going. The confidence is the result of initial training, grooming, and camaraderie, that fosters among the uniformed men. The faith on the team and the push from your buddies keep you going come what may.
Lt Gen KK Khanna, PVSM, AVSM** (40 yrs of service)

What does being an Army officer mean to me? It means everything.
Firstly I am proud to be found fit to be an army officer. Secondly, being an army officer I know I have contributed immensely to the Nation in plenty of disturbed areas. When I commanded men I have kept them happy and trained them to do their duty and carry on the high traditions of the services. I am proud to belong to an excellent battalion that is 16 Jat.
Col Sumit Rawat (20 yrs of service)

Serving in the army means the world to me… It's now a way of life. Fauj is one big extended family. It takes you places you would never imagine existed in our country, you make new friends some of whom last a lifetime and it takes care of you in the thickest of the problem the 'Naam aur izzat' of your paltan keeps you going, the unflinching loyalty of your men and their trust in you keeps you going.
Col Subhir Kumar (23 yrs of service)

Being an army officer is the best choice I ever made. Training, the support of family, both in Uniform and otherwise always keeps me going in rough times.
Cmde N Anil Jose Joseph, VSM (32 yrs of service)

To me, the fauj is a calling. It's my way of life. It's commitment and dedication to the values of duty, and country enshrined as our values. In tough times the thought of God, Country and family – my near and dear ones keeps me going with one's responsibilities and duty propping me up.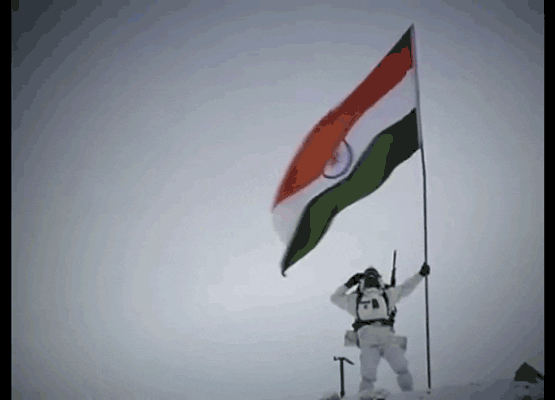 Happy Independence Day!
JAI HIND.